[Reflections] 10K Facebook Followers Milestone & Review of Floral Garage
I seldom take this page as a diary to pen my thoughts. Nonetheless, I thought that as we cross our 10K followers' mark on Facebook, it would be apt to just share our feelings after these wonderful 3 years.

Do read on as we also share more exciting news, such as our series of giveaways to celebrate this milestone! :)
Reflections
In Dec 2014, this blog began, and it started off with a mere humble vision of sharing with everyone some tried-and-tested airfryer recipes that I had. The airfryer allowed me to play out my various baking and cooking fantasies, and it has also been exciting seeing readers' reactions when they realised what more the airfryer could do - apart from just cooking french fries or other frozen food.
As time passed, the husband and I felt that there was also opportunity to incorporate our other past time into this page - eating and sharing food reviews. He has a more astute palate and takes care of the reviews, and it has been a really fun journey together so far. As they say, a family (or couple) that eats together, stays together!
Today, whilst we are really proud to share that we celebrate our 10K Facebook followers, we would really like to thank our readers for the support given to us so far. Yes, you, THANK YOU!!!
Comments and questions on our pages have also led us to research even more, and somehow, the more we learnt, the more we realised what we did not know. Such readership also opened the doors to various collaborations and invitations to media events, and these are opportunities that we would eternally be grateful for.
Despite our small successes so far, we will keep this as (just) a hobby, a passion which we hope to continue for a long time more to come. Please continue to show us your love on
Facebook
and
Instagram
, and keep your comments coming! :)
A video shoot with Philips Singapore
Review of Floral Garage
Coincidentally, Floral Garage, a 3 year-old local online florist, contacted us to send over a bouquet of flowers and congratulate us on this milestone.
To be honest, we have not accepted such offers before, but I was impressed by the designs of bouquets available. If you follow us on
Instagram Stories
, you will know that I am a big fan of plants and flowers as well. With mini Baby's Breath bouquets starting from an affordable $19.90, I thought it's really something worth sharing with everyone.
Their signature flower bouquets include the Freestyle Bouquet and Vegetable Bouquet, and I was particularly intrigued/ amused by the latter!
Source: Floral Garage
Nonetheless, I chose a more classic bouquet -
G14 Heaton
- with gerberas and baby's breath, and it came delivered as promised in the photo online. The delivery was prompt and I received an SMS before the bouquet was about to arrive. Same-day delivery is also available at S$9.70 or one could opt for self-collection.
Gerbera floral bouquet
Thank you so much once again, Floral Garage, for this really sweet gesture and personalised message!
PS: If you are looking for other gifts,
hampers, gift baskets
,
terrariums
and
party stuff
are available too. Just check out their webpage
here
!
Asian Food Blogs Award 2017 - Please VOTE!
At this juncture, we are happy that we are in the running for this award. Please follow this
link
and VOTE for us! Voting closes on 31 Jan 2018.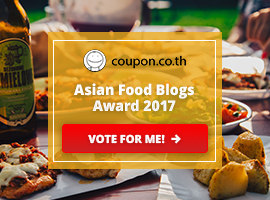 10K Followers' Giveaway
Because we want to thank you all for your support, in conjunction with our 3rd birthday, we have linked up with 3 partners for our series of giveaways - from now till December 2017!
Our first giveaway is with Floral Garage and has just been launched. Find out the contest details
here
and good luck!! Closing date is 07 Dec 2017.

Share this with your friends and follow us!